Best Social Media Marketing Services
Today all the businesses have adopted a customer-centric approach and are more focused towards satisfying their customers to retain them for a longer period. Social Media has become an important part of the online marketing strategy. It is being used by the companies to establish a personalized relationship with customers and prospects. Companies who initially don't realize the importance of social media platforms, today have been using it in further strengthening their online presence. Social media platforms have an invaluable ability to target audiences that otherwise is difficult to reach to and in case you have a presence on social media, you are missing something beneficial for the success of your business. You must know how to leverage and how you can reach your target audience; you can hire a Social media marketing company that is highly experienced in this field. We are a leading Social media marketing company and help our customers in establishing a long-term relationship with their present and future customers as well. We adopt the latest and most advanced social media trends and strategies that can help in generating more revenues for your business.
Get wider recognition on different social media platforms. We at Digiclick use different social platforms including Facebook, Instagram, Twitter and LinkedIn among many others to make your online marketing goals successful. The experts at our company are using their skills in targeting your precise audience and then comes up with new and innovative ways to manage your social media platforms and campaigns effectively. We help you in achieving your social media marketing goals. One of the most important benefits of hiring an agency is that you can increase your website traffic with the help of valuable content that have being posted on your website. Even the companies with a fixed budget can opt for social media marketing as it is one of the most cost effective ways to build your brand. Digiclick is a trusted social media marketing company which provides cost effective services to clients. We also build social media marketing campaigns for clients to generate leads and branding. Social media provides best opportunity for small, medium and large sizes businesses to build their strong online social media presence. It's a golden opportunity for all kinds of businessmen whether they market products and services.
Digiclick is a recognized social media marketing company in India. We help Clients to create and manage their social media channels and Pages on Facebook, LinkedIn, Twitter, Instagram and YouTube. Moreover, Increase Likes, Followers and Subscribers for better online visibility on social networking sites through organic result. For your business to succeed it is important to understand your potential customers and leave no stone untouched in reaching to them, you can hire social media marketing experts at Digiclick that will help in building relationship with your existing and future customers as well. Digiclick is result driven social media marketing company in Noida, offers social media marketing services for every level of expertise. You don't have to be an expert to start advertising on social media platforms. With us, you can create and run various campaigns using simple self-serve tools, and track the performance with easy-to-understand reports. Our social media marketing experts manage all your social handles like Twitter, Facebook, LinkedIn, and Instagram on your behalf. We have a team of social media marketers who first understand your business needs and then come up with tailored solutions for your specific requirements. Call us right away to know more about our social media marketing services.

Our Services
We will help you to reach maximum number of People
Generate More Leads
In this digital era, Social media is the best platform to interact with people across the globe. We build strong and long term relationship between people and brands. We will help you to boost engagement and generate more leads for your Business. Popular Social networking sites like Facebook, Instagram, LinkedIn, Twitter and Youtube provides a great opportunity for your Business.
Social Media For Brand Awareness
Social Media is the best platform for brand awareness. Connect with people on social media channels and build long term relationship with people. You can easily expand your business online through eye catchy social content and engagements. We will help you to get right audience for your business instantly. Improve online presence on Social Media.
Increase Traffic & Reaches
Social Media is the best platform to increase your website traffic and reaches instantly. We will help you to reach to potential audiences to improve your online social presence. We measure and track the performance through social Media Analytics and help you to reach your Brand to potential audiences. We design eye catchy images and content to attract more relevant audiences.

Boost Engagement
Social Media provides you great opportunity for your business. We build Social Media campaigns to boost engagements and generate leads. We conduct a social media audit for all existing social accounts to analyze their performance and social presence. Our social media expert analyze online activities about your brand to identify issues and communicate with team to rectify solutions.
Why our
Social Media Services
are beneficial for your business?
We are a leading Social Media Marketing agency providing best and trending Social Media Marketing services to numerous clients belonging to reputed and renowned industries. Our customized social media marketing services will help you to make your brand look more visible on several social media portals that are being used by your competitors for marketing their brand. We consider several social platforms like Facebook, YouTube, Twitter, LinkedIn, Instagram among many other popular sites to help you in accomplishing your online marketing goals. We use new and innovative ways to manage your social media platforms and campaigns accurately. We help you in achieving your social media marketing goals.
Social Media
Presence
Social media is the best platform to improve the online presence. Most of the people are engaged on facebook, twitter, Linkedin, instagram etc. We help to get more traffic, engagement and leads through social media platforms.
Market
Analysis
We understand the importance of a personal touch that's why we provide a dedicated account manager for better coordination. Our dedicated account manager will help you to resolve your issues.
Reporting
Success takes preparation! By having your site's SEO optimized to be found on Google or other search engines, you'll see increases in relevant searches and traffic that will generate more leads and sales and faster growth. Get your business up on page one with us.
Social Account
Management
Our daily, weekly & monthly updates help you to track progress of your website and what is planned for coming months. Our tracking tools will help you to track performance of your project.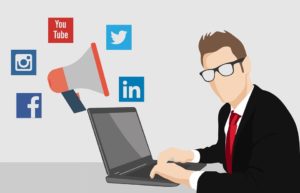 Create Brand Awareness Among Different Social Media Platforms
To many businesses worldwide, the social media marketing have increased their business exposure and have given them a better platform to serve their customers in a more enriched and professional way. Due to so many advantages attached in advertising products online, more companies are hiring social media marketing agencies that will identify and target your precise audience and will create the marketing campaigns accordingly. If you are also looking for the social media marketing services, then you can appoint Digiclick which is an established social media marketing company and will help you to achieve your social media marketing goals effectively. We will make your business get noticed among the new and existing customers so that your sales and revenues can increase.