Online Reputation Management Services
Everybody has rights to give their feedback online to company or service provider and their reviews can be positive or negative. If the review is negative then it will really affect your Clients and Business. So it's right time to get help from best online reputation management agency in India. Our Online reputation management (ORM) services will help you to clean your online reputation. We are the recognized online reputation management agency in India. The main objective of our online reputation management services is to build clean online reputation and maintain it. So if you want a positive online reputation of your business or company then go ahead and avail effective online reputation management services.
We build positive online reputation of organization, business and individual. Online reputation management is not a thing that can be avoided in fact in reality, if you are not paying serious attention towards protecting your reputation online, then it might can affect your business in a negative way. For empowering your business reputation, you can appoint Digiclick which is a leading online reputation management company and will help in making your business successful. We build clean online reputation through search engines, social network sites and forums like Google, Facebook, Twitter, LinkedIn, YouTube, Outdoor, Yelp, Ambition box etc. Apart from this, we manage the reviews. By building positive reviews you can get the good response from your clients and customers because it will help you to build good image.
We have a team of ORM experts, they build and maintain positive online image. We regularly monitor the reviews which affects clients. Without a positive online presence you can never grow your business because before availing your services, Clients check the online presence of your business, if they find the negative things about your business then Clients will never go ahead to avail your services. Meanwhile, if they find the positive online presence of your business then they would like to get your services. If businesses don't pay attention to protecting their reputation online, then the negativity of their business on the internet might affect their business majorly. Today building online reputation is important for your business and it must not be avoided. For improving branding of your business, appoint Digiclick, a renowned online reputation management company that helps make your business successful and more reputed.
Our Services
Best ORM Services to Clean your Reputation

Individual Reputation Management
As a business owner we you know what an Online reputation management is but might not be aware of the fact that using online reputation management services is helpful in monitoring, identifying, and influencing your online reputation. Maintaining good reputation is the key to success of business. We focus on building good reputation after all a bad reputation online can negatively affect your business objectives.
Positive Online Presence
Most of the people research well in advance before buying any particular brands, services, and products online so that their hard earned money don't get wasted. If your future customers are satisfied with the reviews of your products or services, then only they will buy your products. Positive reviews of your business will motivate them to buy products which gradually will increase sales manifolds.

Business Reputation Management
You need to build trust of your customers in your Business or Brand so that you can make your business more successful, your customers will share their experiences with their friends and know ones and this way the popularity of your brand will increase manifolds. In case your business suffers loss of confidence of the customers, then you will not be able to get an edge in your business and they might not turn positive again.
Manage Negative Reviews
Negative reviews can destroy any Business and individual. We can help you to manage your negative reviews and build good online reputation that will help you to grow your business. Positive online reviews help you to increase your conversions and build positive image. As we know that internet never sleeps and everyone has rights to give their reviews or feedback. Online reviews affect the customers.
How to build
positive online Reputation
and manage your Reviews
An online reputation management service is an effective practice that is being adopted by various businesses as it helps in enhancing company' branding on various online platforms. By using online reputation management services, the business can have more positive image especially when their competitor tries to spread negativity about of their business on numerous search engines. To make the concept easier, we make a good digital image that will help leave a positive impact on the customers looking for online products and services, organizations, or on the competitors as well. Meanwhile, We help individuals and businesses to manage their Reviews.
Forum
Post
We search and find out the forums for negativity and we make meaningful positive post about your brand and business. We assure that our Positive posts will improve your online positive presence.
Social Media
Presence
Social media is the best platform to build positive online presence. We manage social media accounts to improve the positive online visibility on all social media channels such as Facebook, LinkedIn, Youtube etc.
Competitor
Websites
We will find out the competitors who have posted the negative reviews about your business and suppress the negative content through all social media channels. We will help you to build positive online Reputation.
Blog
Post
We have experienced Content Writers through which we can post the creative and informative positive Blogs on your website and other Blogging sites with high DA to get better search results.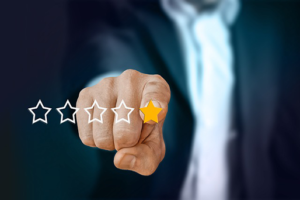 Negative Reputation can Destroy your Business
Online reputation management (ORM) is a strategy and process that is helpful in checking and improving your online reputation and online business credibility, today it is an effective marketing strategy that assures that your business or brand image is not compromised and you can explore new business opportunities as well. For the business owners, there business is everything and its credibility can't be kept on stake, after all good reputation is important for business growth and you have devoted your time and efforts in maintaining your business image. In order to build trust of your clients, you can hire Digiclick that offers online reputation management services to clean your online reputation so that your reputation doesn't get affected. A negative online reputation can affect your business objectives to a much greater extent, therefore it is important to protect your reputation online.